Central Michigan's BDS authorized distributor!
CALL US TODAY FOR A   PERSONALIZED QUOTE!
Why BDS? Because it is our mission in life to provide you with the best possible suspension experience ever!
What does this statement mean to you? It means you get a real picture of dollars invested by providing ALL the parts necessary to do the job right. Selecting a BDS lift gives you peace of mind knowing our parts fit and perform as close to original equipment as possible. It means you can sleep peacefully knowing we provide the most complete, easy to understand warranty in the industry. It means we care way beyond selling you a lift and want to make you a satisfied customer for life.
Distributed only through knowledgeable Four Wheel Drive shops, made in North America, and supported by a group of people who really care about providing you the best value for your money, BDS truly provides the ultimate lifted experience.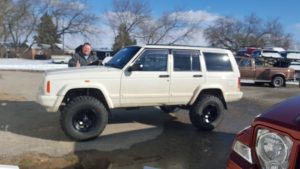 BDS Suspension operates with one guiding premise—to provide true value to the customer by engineering and manufacturing the highest quality aftermarket suspension lift kits, leveling kits and accessories for 4×4 off-road truck and Jeep enthusiasts. Our suspension products are priced competitively, and backed by the best lifetime warranty in the industry.