UNDERCOATING
Why ValuGard Delivers Value and Guards Your Vehicle
Undercoating a car or truck is one of the best ways to stop corrosion before it starts. Applying automotive undercoating to a vehicle puts a physical barrier between the exposed underbody and all the road debris just waiting to pummel it. That's important, because road debris goes way beyond litter. It includes magnesium chloride and other chemical compounds used to de-ice asphalt and control dust. Once that stuff gets drawn up into your vehicle, it can stick like glue. By the time the corrosion becomes visible, its effects may already be widespread.
How Undercoating Works
At ValuGard, we carry the best undercoating for trucks and cars. Here's how our products work. The undercoating is applied to those surfaces of the car that get most exposure to the road—the underbody and the wheel wells. Because auto undercoating involves treating the most visible and easily accessed areas under the vehicle, no guesswork or complicated equipment is required. This in turn makes the process easy, affordable, and relatively quick.
The Benefits
The benefits of car undercoating are many. Because undercoating for trucks and cars prevents corrosion, it extends the life of the vehicle. It also means you'll spend more time enjoying it and less time (and money) repairing it. Undercoating also helps reduce road noise, as debris never makes contact with the metal.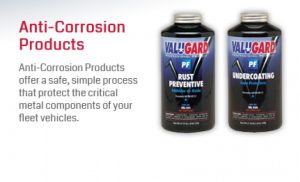 RUST PREVENTATIVE
Features: Wax based, amber, anti –corrosive formula installed using the no-holes-drilled atomizing
method.
Benefits: Outstanding corrosion protection and crevice penetration. Simple to install using the proven
effective atomizing method of application. Preserves the vehicle body from expensive and dangerous rust
through. No holes drilled means no destruction of the factory paint film, no compromise to the structural
integrity of the vehicle.
Uses: Vehicle body cavities, electrical connections, marine, agricultural, industrial, virtually anything that
rusts!
FABRIC PROTECTOR
Features: Resin / solvent formula thoroughly encases and penetrates fibers to become a permanent part of
the fabric. Not just a surface treatment like many other products. Won't alter the appearance or feel of the
fabric.
Benefits: Long wearing protection against stains from foods, beverages, common soil and pet
mishaps. Superior to water based formulas.
Uses: Fabric, upholstery and carpeting in cars, trucks, boats and motor homes.
LEATHER/ VINYL PROTECTOR
Features: A true coating, not just a dressing, ValuGard Leather/Vinyl Protector is an acrylic latex
emulsion with an ultra violet barrier added to help prevent fading of leather and vinyl upholstery. Unlike
silicone dressings, ValuGard Leather/Vinyl Protector is not slippery and does not attract dry soil.
Benefits: Non-greasy long lasting coating ( 3 years), that helps prevent fading, staining, scratching,
even cigarette burns! The ultimate protection for premium interiors.
Uses: Leather, vinyl and surfaces in cars, trucks, boats and recreational vehicles.
PAINT SEALANT
Features: An aminofunctional polymer – copolymer resin with an ultra violet ray blocker and anticorrosive
agent. Over eight million vehicles treated.
Benefits: ValuGard Paint Sealant provides a durable high gloss shine that sheets or "plates" moisture
from the painted surfaces of the vehicle to help prevent environmental damage. Reduces the surface tension
of the paint to lessen the bond of dirt and pollution. Protects against fading, oxidation and loss of gloss.
Uses: Painted surfaces on motorized vehicles.