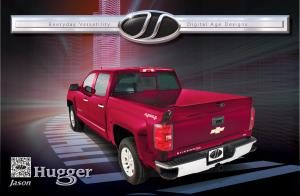 The Rage and Hugger share many of the same standard features such as:
Tooled articulating front hinge system that opens away from the truck cab and bed.
Carpet Lined Interior – Choice of Colors
Our "Clamp and Go" mounting system means there are no holes to drill in your truck.
With multiple adjusting points you get the best fit in the industry.
Seamless transition from the Rage to your truck is possible due to the monochromatic Trim-less Edge.
Jason's oval twist lock handle with "Lock Guard" painted to match. The integrated automotive lock / latch system with an "easy open" gas prop lift system set the Rage Lite apart.
Ashland's ISO-NPG lightweight lamination process means today's Rage is lighter than most fiberglass tonneaus on the market. The Rage Lite is 35% lighter than its predecessors.
The wrap-over tailgate design promotes cargo security.
The Rage can be removed and reinstalled without the need of "refitting" it to your truck.